GRT Temple Necklace Gold Jewellery with Weight
Home » Temple Jewellery »
Firstly we are showing the latest GRT temple necklace collection with weight and price here. The antique value, the perfect finish, and the statement element they have are the reasons why brides choose antique ornaments.
Most of the History says that Temple Jewellery was in wide use during the Chola dynasty in the 9th century. Back then, these jewellery pieces were used as offerings to temples and thus they got that name. Moreover, the kings and queens of those times used to wear these ornaments. Each piece showcases symbols of Hinduism, the faces of idols, nature, and much more elements.
Above is the sample collection of GRT temple necklace models, Indian Temple Jewellery collection is made out of pure gold, people use emeralds, rubies, pearls, and uncut diamonds to make them look even more attractive.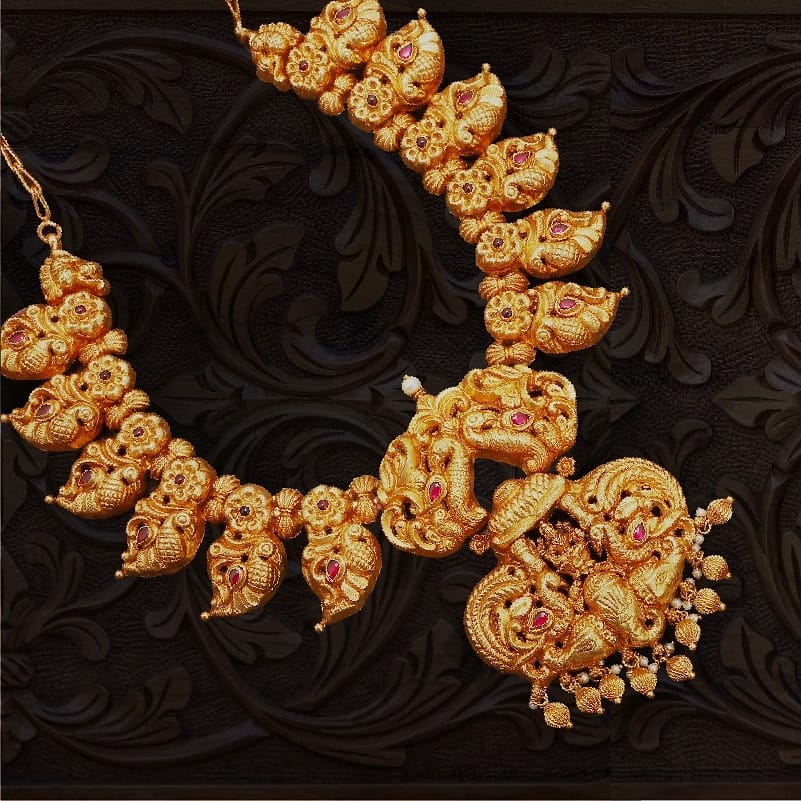 Ancient temple motifs come alive on a traditional necklace, handcrafted for the most important ceremonies.
Indicative Cost: Rs. 4,43,000
Indicative Weight: 74 Grams
Ancient temple motifs come alive on a traditional necklace, handcrafted for the most important ceremonies.
Indicative Cost: Rs. 6,44,000
Indicative Gold Weight: 108 Grams
Traditional temple motifs come alive on gilded necklaces for occasions that are meant to be treasured forever.
Indicative Cost: Rs. 7,68,000
Indicative Gold Weight: 126 Grams