21ct Gold Buttalu Traditional Jhumka Earrings
Home » Antique Earrings »
Firstly we are showing the Gold Buttalu latest collection from Shailu Rawat Gold Jewellers in this video. Small Gold Jhumka collection top 10 designs with enamel coating gives the immense look to these earrings. What is your favourite one?
It is not surprising thus to find a small personal collection of gold earrings in any woman's jewellery box. Because she may have carefully retained all that she ever collected – bought or received as gifts. Similarly Gold earrings are the perfect gift for any occasion in a woman's life birthday, graduation, topping the class, getting a job, getting a promotion, self-pampering, wedding, engagement, child-birth, just about anything goes incomplete without the gleam of gold jewellery. Gold Buttalu earrings are best gift to women at the drop of a hat – literally.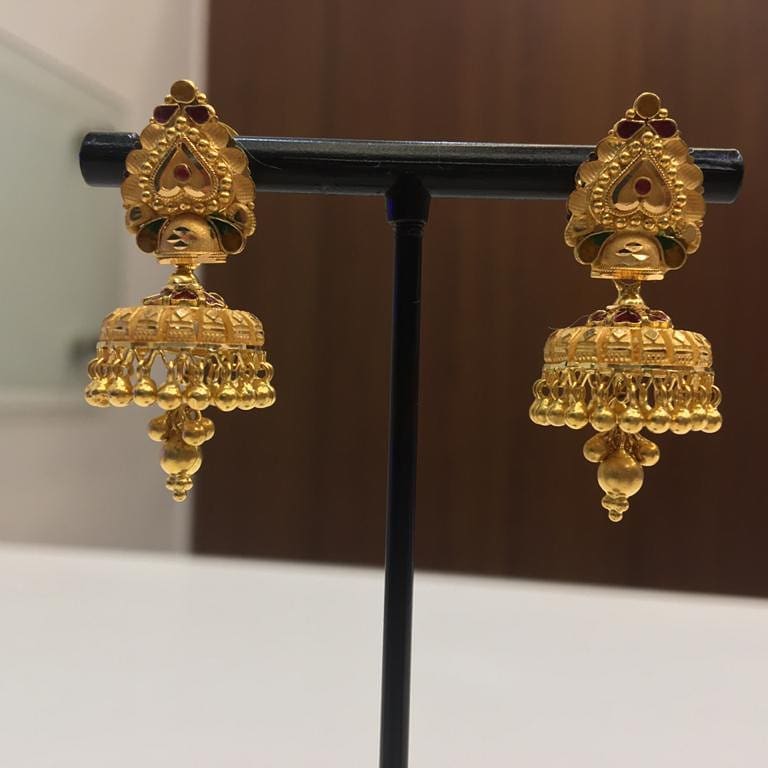 Gold jhumkas have been an all-time-favourite for ladies. They are playful and fun to wear. Here are some of them listed with us – Roselle Earrings, Ashika Earrings, Dristi Earrings, Bhavini Earrings, Ajanta Earrings, etc.
The Gold Earring collection encompasses all – Wedding Earrings, Gold Bali Earrings. Below Rs. 20,000, Jhumkas, Long Drop Gold Earrings, Gold Stud Earrings, Gold Sui Dhaga Earrings.
Finally Seller details are given below.
Seller: Shailu Rawat Jewellers
Mobile: 9717130537