Top Mango Mala Designs
Home » Mango Haram »
Mango Mala is a all time favorite jewellery in South India. Mango is regarded as a symbol of love and fertility. Traditionally Manga Malai is worn for special celebrations such as weddings.  Mango necklace comes in breathtaking varieties. Artisans have been creating this jewellery with  outstanding designs and superior finish.
If you are planning make a purchase of this timeless Traditional jewellery we are presenting you with the best in class designs available to you. First decide upon the length of  the neck set. It Can be a Long chain like Haram or a short Necklace.
Gold Mango Mala
Gold Mango haram designs are available with or without pendents. Definitely Adding a Pendent gets you the Extra Wow look to the necklace. You may want to consider the budget and decide upon the weight of the Mango Set. Then make a choice on the kind of jewellery you want.Mango motifs can be simple with smooth finish or can have a carvings on it.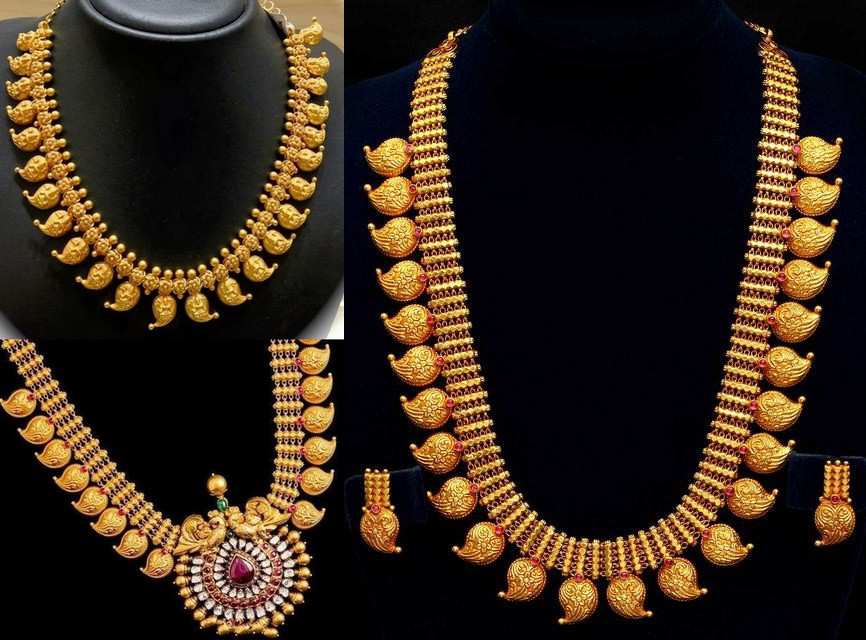 If you prefer Plain Gold then you can choose between trandy designs or Antique designs. Temple jewellery style Nakshi finished Mango mala are another choice which can never go wrong.
Antique and Nakshi Mango Mala
Diamond Mango Mala
If budget is not a limitation for you you may explore the Diamond  or Uncut Diamond necklace Designs. There are plenty of this jewellery models.  Mango haram is available with step necklace design too.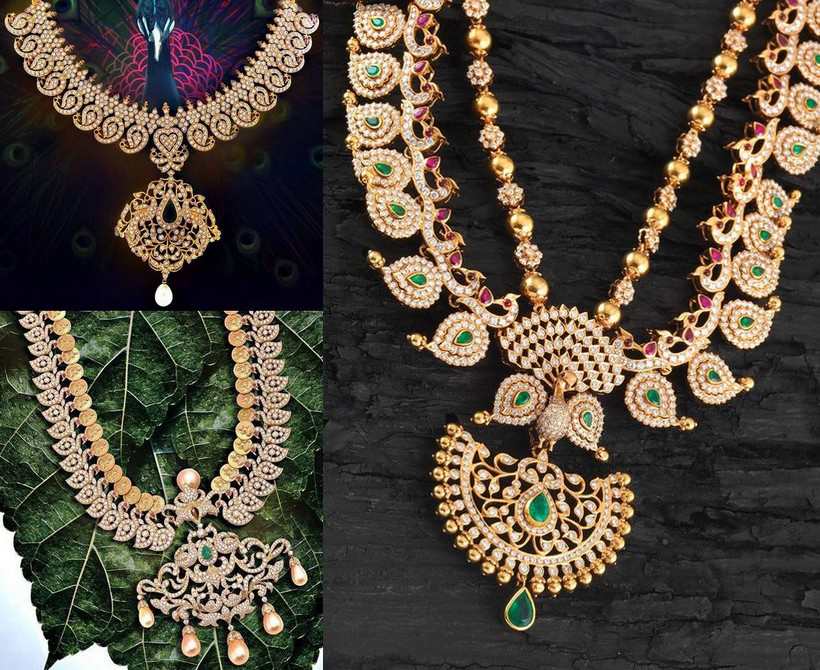 Uncut Diamond and Pachi Mango mala
Uncut diamond jewellery is trending now. Why not own a uncut set in paisley design. Pachi mango mala is a guaranteed showstopper choice you can make. Mango haram with a combination of uncut diamonds, polki, gold balls and rich pearls is for the woman in your life who's even more precious than these gems.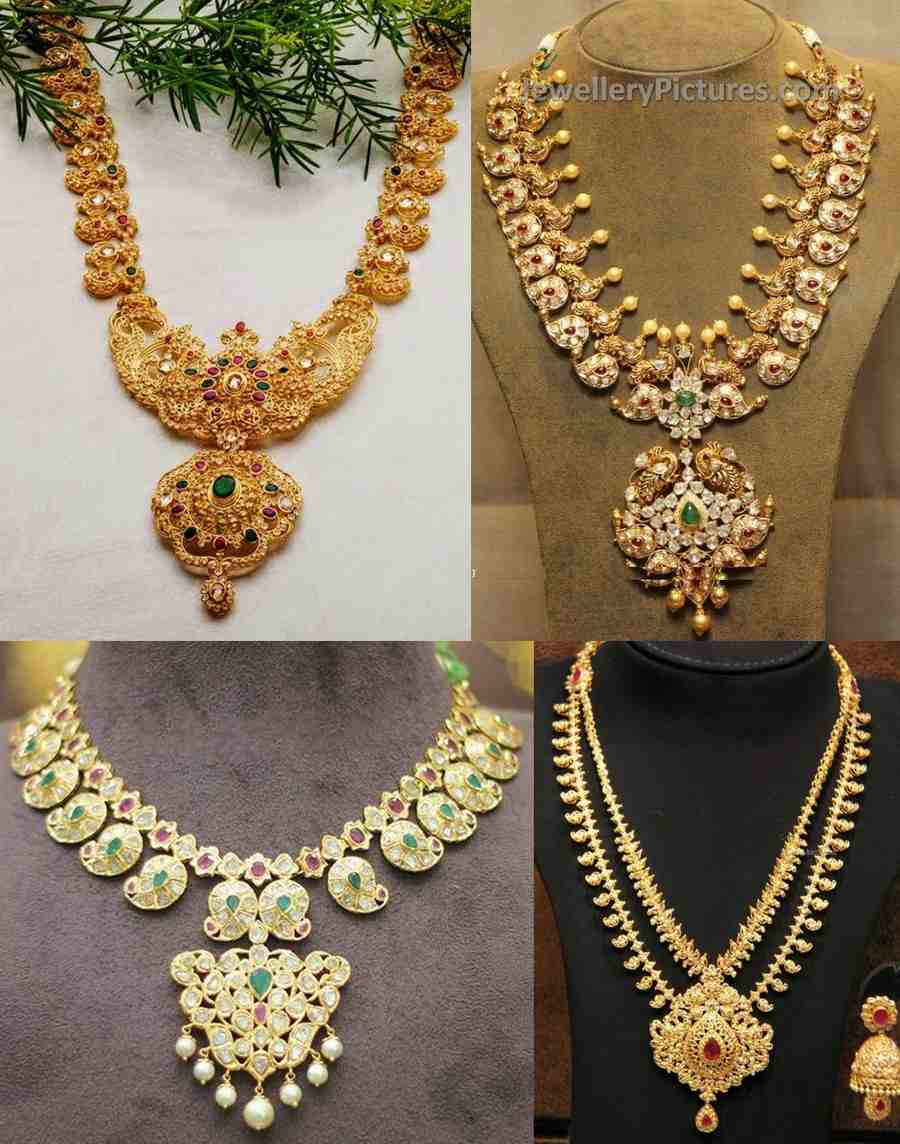 Ruby Mango Mala
Breathtaking mango necklace sets demonstrates the South Indian preference for cabochon rubies.with radiant rubies make other necklaces feel jealous.South Style Indian jewellery will remain close to heart for generations to come.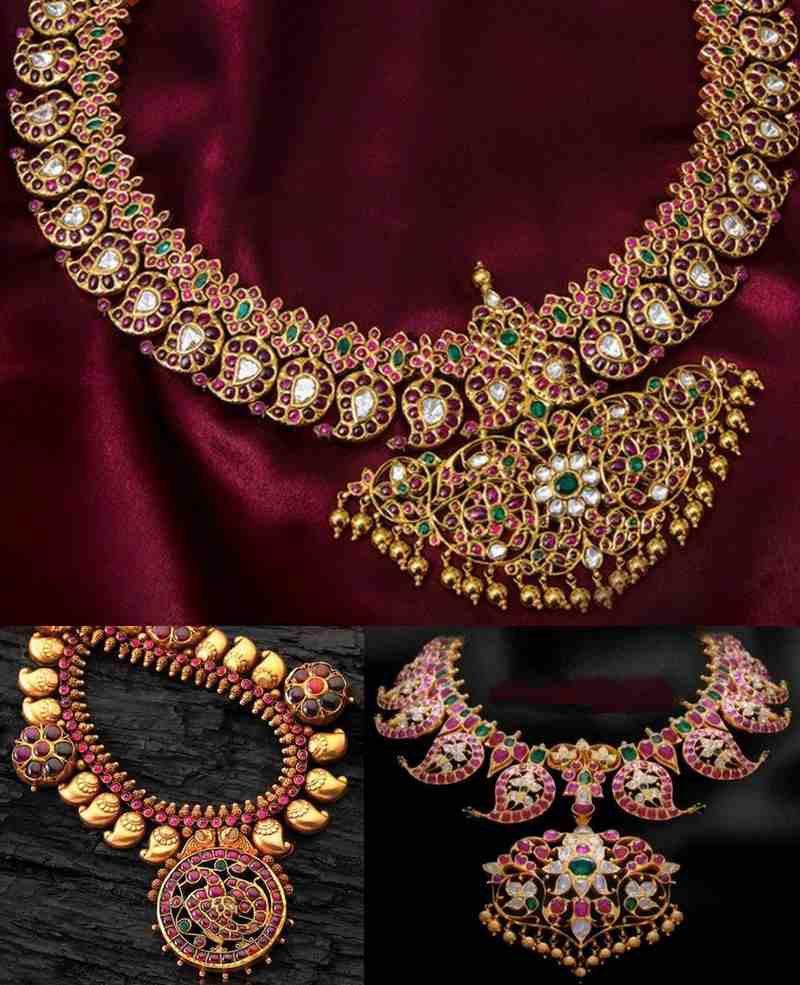 In addition to above variations Artisans have been experimenting with combination with peacock, kasumala etc. You may consider the Kasu Mala Style Mango Necklace which has embedded both the types of jewellery in one design. Kundan Mango necklace set designs are available with kundan settings and emeralds settings. Checkout our latest collection of  traditional mango mala designs.
Many celebrities were spotted wearing this south indian traditional jewellery. May you be blessed to own one in wardrobe.