Traditional Kerala Jewellery Designs
Home » Jewellery Trends »
Traditional Kerala Jewellery designs are timeless. Every Hindu bride in Kerala makes gold ornaments as part of her wedding. Kerala wedding jewellery are still very popular and are preserved for generations to come.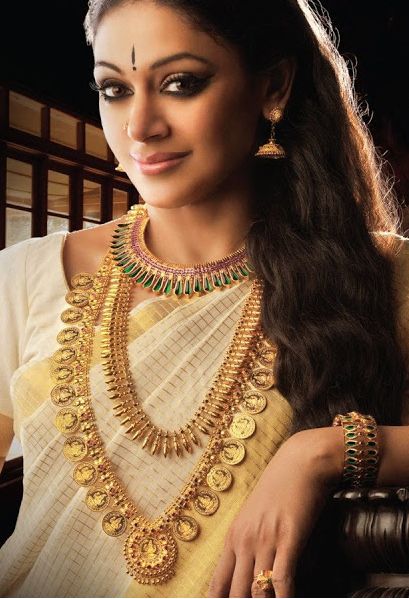 The traditional Kaashu Mala, Mullamottu mala, Elakka Thali, Palakka, Nagapadam, Manga mala etc are hot favorites to this day.
Kasu Mala
Kasu mala is popular in entire south India. Also called as kasulaperu or kaasu haram this jewellery reflects pride of carruing gold coins as jewel.  Have a glipse at beautiful kasulaperu or kasumala designs and choose the best one that caters your requirement.
2. Manga mala
Another timeless south indian favorite jewellery is Manga mala.Mango shaped motifs adorn the necklace made with gold. Checkout our outstanding designs of manga mala created by experienced craftman involving creativeess in every design.
   3. Jumki
Traditional ear ornaments fondly called as jumki are  temple bell earrings made with 22 carat gold. Fall in love with our excellent jumki designs collection made with gold, diamonds and uncut diamonds.
4. Karimani mala
Every married women wears karimani mala as a pride. Checkout latest karimani mala designs exclusively gathered for our viewers.Black beads necklaces with diamonds and plain gold have been presented.
Indian actress also love to wear traditional kerala jewellery. Now and then we spot celebrities in the timeless mallu attire and jewellery.